It's a fourth period on a Friday and Mr. Kilbane sits down in his spinny desk chair getting ready to welcome the class. It's a class of just a few kids, but that's exactly how it should be. The most dedicated and hardworking juniors who are exploring the route of engineering. With Mr. Kilbane's assistance, students are making their initials in 3-D, in a service called CAD.
"
It was one of those random things where I saw the job pop up, and I'm like, wait, wait a minute, like, is there really a job out there like that, really?!
"It's just a really unique opportunity to do what I love as my job," Mr. Kilbane said.
It is Mr. Kilbane's first year at SCH.
"I wasn't just leaving for any job. I was leaving for a chance to do this here." Mr. Kilbane explained.
When he was born, he was introduced to technology almost immediately. His brother was five at that time and loved playing with legos. Because of this age gap, he always taught Mr. Kilbane the essentials of building. His grandfather worked with engineering companies his whole life where he built almost everything. "When he became an engineer, he worked for 3M in Minnesota…and he worked on whatever project they needed him on…so I grew up hearing about all the crazy things that he was and had to figure out how to work on," Mr. Kilbane said.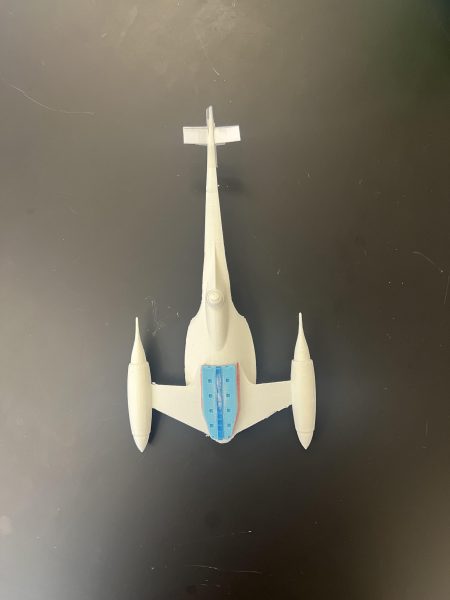 Technology classes did not exist for Mr. Kilbane in high school, so he entered Science Olympiad where kids are asked to engineer and code a project that completes a task. For example, using a weight to propel a car to bring an egg as close to a wall as possible without breaking it.
"Somehow I convinced my history teacher to let me make a trebuchet instead of writing a paper. So I had a potato chip trebuchet that I brought out into the field and fired off and got credit for," Mr. Kilbane recalled with a grin on his face.
For those that don't know, a trebuchet is a long-arm catapult that was designed to throw heavy projectiles farther than a basic catapult.
At that point he knew he wanted to go into the science field. In high school he met his next big influence, Mrs. Crawley. She was Mr. Kilbane's chemistry teacher and, more importantly, his Science Olympiad coach.
"She's the one who really got me interested in science," explained Mr. Kilbane.
From there Mr. Kilbane went on to college at the University of Chicago for organic chemistry. His love of science, technology, analytics and building things continued to grow.
In graduate school, it was required for him to teach, but he and other researchers ended up teaching one of their professor's classes.
"That was kind of the point when I was like, you know what, actually, this is what I want to be doing," he said.
After moving to Washington D.C., he found a job teaching chemistry at St. John's College High School. While he enjoyed teaching, he began side projects in the summer when he had time off. Understanding the numbers in science is always crucial, but when Mr. Kilbane left the research field, that got left behind. But he missed it. In high school, he played three sports and was a big sports fan. He then realized that he could use analytics from the NFL and predict the players' future seasons. He spent his summers figuring out how he can be better than everyone else in his league.
"I'd read a lot about behavioral economics and other aspects like that…so you're trying to identify, like, what did other people miss? What are the numbers telling me? And then what people are planning to do?" Mr. Kilbane explained.
Because of this, he drafted Todd Gurley, the NFL's best running back that year, low in the fantasy football draft because he disappointed the year before.
After teaching in D.C. for a few years, he came to Philadelphia, where his good friends were. He got hired by Penn Charter as a chemistry teacher, but as he was there, his role evolved.
"As I did more and more there, I helped found the maker space that we had there and got involved in helping people with doing more independent studies," he said.
Mr. Kilbane ended up teaching at Penn Charter for 12 years, and was not going to leave for just any job.
Last year, one of SCH's longtime robotics and engineering teachers, Mr. Erving, retired. So, a replacement was imminent.
"When Mr. Erving left last spring, we started the process of hiring a replacement for him," said Peter Randall, chair of the engineering and robotics department at SCH. "We interviewed people from as far away as Alaska and California, and we had Mr. Kilbane, who heard of the opening and applied, even though he was just down the street … He has a deep interest in the process of experimental learning, project based learning, learning by doing … He has some significant experience with the FTC Robotics program. For us that was a middle school program, at Penn Charter it was a high school program. He is now running that program for us here for 7th and 8th grade."
At Penn Charter, there was not much class time for the engineering or Robotics program. A lot of the projects were independent studies that were done during free time, or after school. But at SCH, these classes are built into the students' schedules which allows Mr. Kilbane and his students to devote even more time into what they love.
"He's made the class a little more structured, …instead of telling you to figure it out yourself and then come back to them, he will walk through the process with you and help find out the answer with you," said senior Jorge Bonvicini, who's working on a RC Airplane.
"This is just such a really cool opportunity to really, because the one thing I love about it most is that like, I always have projects I like working on but like, I never know what the students are going to bring me to help figure out. Everyday there is something new to figure out," Mr. Kilbane said.
Along with his in-school endeavors, he also is continuing his out of school activities. He has set up an LLC to be able to sell woodworks, 3-D printing and laser cut designs. His wife is a freelance graphic designer, who saw a picture of Mr. Kilbane working with a lathe and immediately asked him where his lathe was. That's where their interest in each other started. She teaches a graphic design class at Penn Charter where they used to work together.
"She's helped me get started in small business, and I've helped her get going with teaching. So we're both very much into making things and having that be a part of what we enjoy to do," Mr. Kilbane cheerfully remarked.
Now that Mr. Kilbane has settled into his new job, he doesn't plan on leaving.
"It was one of those random things where I saw the job pop up, and I'm like, wait, wait a minute, like, is there really a job out there like that, really?!," exclaimed Mr. Kilbane.
He got his dream job, and he's here to stay.