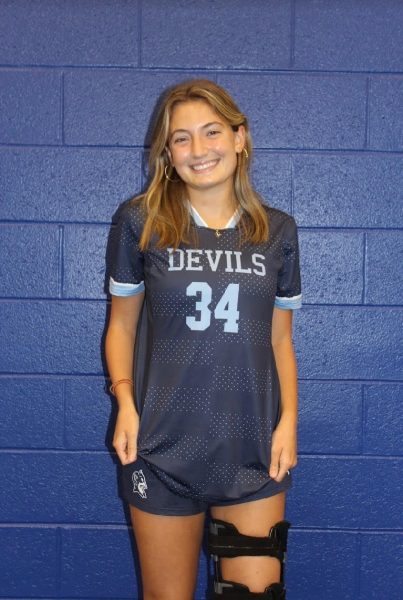 Twice a week, like clockwork, Leah Schnee heads to physical therapy. She stretches and performs strenuous exercises over and over until her muscles regain the power they once possessed. Even on the days she isn't going to physical therapy, she takes time and care in performing her routine exercises, allowing her to become even stronger than before. Every squat and double leg jump is hard work that takes what feels like endless months of dedication, but in the end it will all be worth it, for her goal of returning to the field is visible in the near distance.
Leah Schnee, who is a senior at Springside Chestnut Hill Academy, is an avid soccer player who has torn not one, but both of her ACLs within two years. Her first tear happened during her sophomore year, and after recovering, she tore her second in her junior year. These injuries created major setbacks in her lifelong goal of playing collegiate level soccer, but her drive and perseverance during her recovery prevailed.
Leah has been playing soccer since she was three years old, participating in intramural clubs in her hometown. "My parents threw me into a lot of sports. When I was younger, I played basketball, softball and soccer for most of my life, but I think that they saw a special talent in me for soccer from a very young age. There was one game where I scored eight goals, even against the boys in the league, so they really saw that I was striving for something more at a young age, especially in soccer," said Leah.
When Leah was seven, she joined the Philadelphia Ukrainian Nationals Soccer Club and still plays for the club to this day. She started out on the B team, but with hard work and determination, she was promoted to the A team in 6th grade, became captain in 7th grade, and has remained captain since then. "She's incredibly tough. She's resilient. She's a leader. She's somebody that people can rely on," says Joe Nemzer, the technical director at the Philadelphia Ukrainian National Soccer Club and Leah's former coach.
Her sophomore year of high school was the first time she tore her ACL. "I was honestly really stressed because junior year is the biggest time for recruitment, especially in women's soccer. And I just felt a lot of pressure to rush back. I felt like I had to accelerate the process to even get back to where I was on the field, and my mental health obviously deteriorated because of it because I wasn't on the field. So my recruiting process was on complete halt, because no colleges could talk to me before June 15th after my sophomore year, but no college has even come to see me yet since I got injured before the time of recruitment. So I had no options. I decided to redo my sophomore
year, and after doing that I felt like I had a little bit more time to breathe and that I would like to get back onto the field and take a longer time to just get my body healthy before returning to play because I really didn't want it to happen again," she stated.
Leah waited two months after her ACL tear to receive surgery. She spent those months doing physical therapy to rebuild strength and get rid of the swelling in her knee. "Typically, after an ACL injury, most athletes come back nine months after the surgery. But I was working with people who specialize in ACL recovery, and they have a lot of information saying that you really shouldn't come back to playing contact in games until a year after, so my first recovery was fourteen months long. A month after the surgery, I started physical therapy and was in there for about three months, where I just did typical recovery stuff, but it wasn't catered to sports rehab. So I was kind of just doing something typical for people that are getting back to basic walking and running, but I really needed something more. So three months after my first injury, I went to a physical therapist who specializes in ACL recovery with a focus on sports rehab and getting back to playing," Leah explains. She attended sports rehabilitation for nine months, until one year of recovery.
After Leah was finally cleared to play again, she tore the other ACL towards the end of her junior year. While it was a similar recovery process, the injury didn't feel as daunting as the first time since Leah was already in talks with the coaches at Drexel University and had a general idea she was going to play for them.
"It was a team effort for Leah's coaches and myself. We were speaking to coaches about Leah as a player and as a person. Eventually, we got to a place where Drexel was interested in her before the injury. After the injury, they felt comfortable with her character and who she is, a person that they could invest in," says Joe Nemzer.
While the recruiting process was slowly but surely working out for the best, Leah still had to push through the physical and mental challenges of tearing her ACL for a second time. Mike St. George, Leah's physical therapist for her second ACL tear, remarks on the journey for an athlete who has tore both ACLS and how it affects them: "The biggest factors are those feelings of hopelessness and despair, you went through this long rehab process for the first one, and now you have to start all over. The first time you have the injury, you're not really sure what to expect, besides maybe talking to other people or hearing about it, but when you've been through it before, and then you have to go through it again, that can be probably a hard hole to climb out of, I think it's definitely tough. The injury also happens so fast, it's like one minute you're running and playing, and next minute, you're down. You might hear a pop, and all of a sudden things change, and you automatically know what happened."
With the people and resources in her corner who helped her get back to the sport she loves while also pursuing her dream of college soccer, Leah has officially verbally committed to play D1 soccer at Drexel University, and will be joining the team in the fall.
For those who are currently recovering from an injury and are worried they might have to kiss their dreams of college athletics goodbye, Leah's story serves as a reminder that with drive, resilience, and determination, anything is possible.