Walking through the art center there is a muffled sound of classical jazz playing in the background. Following the noise leads you to the studio of Matt Rizzo, a room of organized chaos of paints, brushes, artwork, sculptures and different types of woods. The space itself embodies everything the character better known as Rizzo is.
Matt is currently a senior at SCH who can most often be found in his own art studio in the basement of the school. He spends most of his free time during school down there painting or doing any variation of artwork. Matt is a loved member of many people in the SCH community and is known by many for his very unique personality and comedic gestures.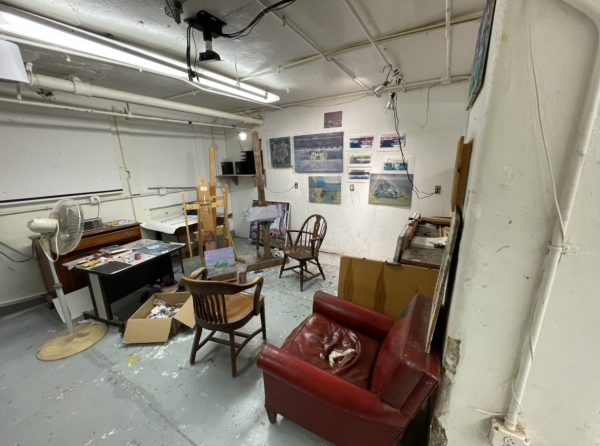 Coleman Benner, another student at SCH who is very close to Rizzo described him as "abstract because Matt can take many different forms. He can be crazy Matt, or it can be the focused Matt, or it can be the funny Matt."
Matt came to SCH in eighth grade because he felt he was unsupported at Springfield, his old school. Matt used to wrestle and run track before he found a passion in art when he took 2D Art with Mr. Brewer his freshman year. He has taken an art class every semester since.
Mr. Brewer and Matt built a very special relationship throughout these classes."It's not really teacher student, it's more mentor, he's more my mentor than just a teacher."
Mr. Brewer has inspired Matt and helped him commit to art and build a portfolio to apply to different art schools.
When asked about his future in academics, Matt said "I am looking at alternative options for school because I'm not great at academics, or learning through the academic sense," which is very intriguing when compared to what his advisor, Dr. Richards said.
"Matt is a very smart student who is very capable of doing a lot of good work, and he usually does." Then Dr. Richards commented on Matt's personality and said, "Matt likes to give off the impression that he doesn't care much about a lot of things… but actually he does care, and he usually gets his work done."
Dr. Richards described it as Matt giving off the effect "that he kind of does whatever he wants" but said he noticed Matt found his "schtick" in the middle of 10th grade where he realized "that art was his talent, that he was really good at it and he really liked it."
Matt plans to attend a good art school and get his MFA (Masters in Fine Art), and wants to be a commercially successful artist, but understands the struggle that many with that goal face. "To be a commercially successful artist you have to have a second job. For a successful artist that's usually working in higher ed."Ironic for Matt that many artist begin a career in higher education because he made it a point that he did not enjoy school. Anyways, the future looks very bright for Matt and I can't wait to see what he does.