A smoker grill, a pork brisket, a slow and low flame, and a video camera. That's just about all Mr. Bell needs to make dinner for himself, his family, and his friends, or to post a mouthwatering video for his followers.
Mr. Bell, 11th grade dean and 9th grade English teacher, lives a double life outside of SCH, as a barbecue enthusiast and a content creator.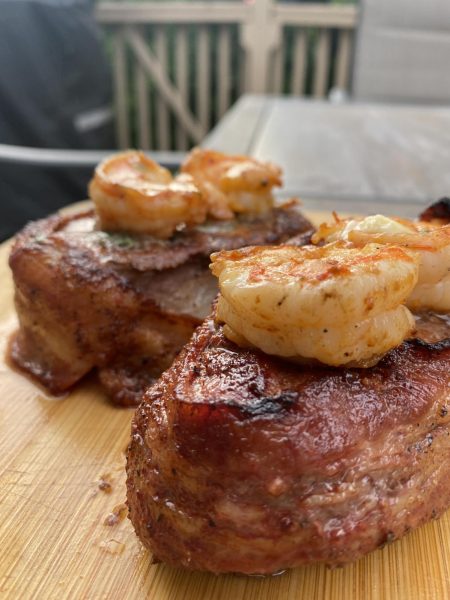 Through his Instagram account, @smokingbellsbbq, Mr. Bell combines his love of food and grilling with his passion for photography and video editing.
Before Father's Day around five or six years ago, Mr. Bell never even owned a grill. He had "always liked to eat barbecue," but when his wife bought him that first pellet smoker in 2017, he fell in love with it. "It was fun. I love barbecue. It's delicious," declared Mr. Bell. "That just became a little hobby," which he enjoyed so much that he "started doing it more and more."
Initially, Mr. Bell posted some quick barbecue highlights to his private, personal social media. A few years later he created the account dedicated to his hobby. Soon after, Mr. Bell said, "the communications department reached out to me and they were like 'we heard you have this Instagram account, we want to highlight it.'" So, he agreed to be spotlighted by the SCH media team for one of their #FiredUpFridays in November, 2021, thinking immediately, "yeah, cool!" Mr. Bell revealed "then, I was like 'man, I gotta be good!'"
But no one gets good at anything by accident, especially not something as difficult as editing together high-quality videos of meats smoked to perfection.
Gaining followers and attention from the SCH community, Mr. Bell said, was "an inspiration to take it to the next level." The feature was an impetus to become "very intentional" about the hobby. Mr. Bell started "taking [his] time with what [he] was posting, using a nicer camera, learning a little bit about editing photos, creating reels."
"He's always had that creative element to him," noted Mrs. Bell, Mr. Bell's wife. In college Mr. Bell majored in broadcast journalism, where he gained a strong base for the video editing he does now. According to his wife, Mr. Bell was "able to take two things he was really enjoying," barbecue and video editing, "and put them together in a way that has been pretty cool to see."
Mrs. Bell struggled to choose just one favorite dish, but thinks "[Mr. Bell] has mastered his pulled pork." She added, "I feel like he has that down to a science and it's quite delicious."
Josh Mattingly, 11th grade history teacher and longtime friend of Mr. Bell, has gotten the chance to try the dean's food on a number of occasions. "He's sort of refined his skill over the years. He's bought new equipment and that opens up new opportunities and new doors, and I think that's another piece of it," said Josh. "In terms of the brisket that I had, just last weekend, it was his best yet. So he's on an upward trajectory, I would say. He's getting better and better."
That upward trajectory has carried Mr. Bell to where he is now, with over 3,000 followers on Instagram and the highly-coveted blue verification check mark. Mr. Bell acknowledges the dangers and downsides of social media, however. "When I work hard on a video, and it doesn't get very many views, I get really disappointed. And that's where I pause, and I'm like, 'hold on, what am I doing here?'" Mr. Bell wants to stick to his "brand" of "having fun, being who I am, being silly, while making good food."
The dean is set to attend the 'Under the Lights' games on Friday, 10/27, as the "special guest" working the food truck, making barbecue sandwiches!
"One of my goals this year is I don't want to just be the dean who dress codes people. Yes, that's part of my job. But I also see part of my job as building a healthy student community," says Mr. Bell. "I'm looking forward to literally serving things to you guys, as a way of showing that I love this community, whether you're in dress code or not."